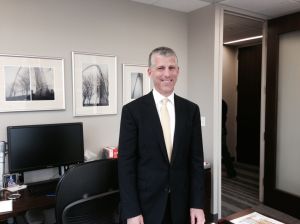 May 30, 2014 12:15 am  •  By Lisa Brown  •  lbrown@post-dispatch.com  •  314-340-8127
Following Robert Millstone's launch of Millstone Capital Advisors in April 2013, a fund managed by the private equity firm acquired the Lion's Choice restaurant chain. Now Millstone, an attorney and real estate developer, is evaluating multiple businesses to invest in both locally and nationally, as Clayton-based Millstone Capital Advisors looks to grow.
Millstone, who was born in St. Louis, began his career in 1988 as an associate at the Coburn & Croft law firm, now known as Thompson Coburn. For a few years in the early 1990s, he worked as a trial attorney for the U.S. Department of Justice's tax division in Washington. He returned to his hometown in 1994 at the request of his grandfather, the late philanthropist and builder I.E. Millstone, to join a construction firm that had built dozens of St. Louis highways and landmarks, including the second Busch Stadium, which was demolished in 2005 to make way for the new ballpark.
Bob Millstone was CEO of the Millstone Bangert construction firm, which recently was renamed Millstone Weber, from the mid-1990s to 2001.
When he left Millstone Bangert in 2001, Bob Millstone formed The Millstone Co., which acquired the ground in Fountain Lakes Commerce Center in St. Charles County from the construction company. Today, the mixed-use business park has 2.7 million square feet, and Millstone says he plans to add up to 1.5 million square feet of additional development.
The Post-Dispatch recently interviewed Millstone about his latest business ventures. Below is an edited transcript.
What's new for the Lion's Choice restaurant chain since you acquired it last year?
Lion's Choice was a great acquisition in that there were no surprises. The management team has proven that they're running an excellent company.
We're looking at how we can improve operations through additional investment by modernizing the look and feel of the stores. We're in the early stages of that. When we open new stores, we'll be looking at new store designs.
We do anticipate opening new stores, initially in the region, but we will continue to evaluate other markets.
Will your next acquisition be in the restaurant industry or something else?
We have 40 investors, where we have full discretion on investment of those funds. That means we can act very quickly. As an opportunistic fund, we're not tied to the quick service restaurant industry. We're currently looking at opportunities in financial services, health care, manufacturing and business services. It's very broad.
We're fairly unique in what we do. We can invest in anything we feel we can understand and that will be successful. What we're really looking for are companies with annual revenue of $10 million and up that have outstanding management — existing or that we can build around — that have been successful, and that with additional capital, guidance and mentorship, we can help get to the next level.
We tend to be focused on opportunities that come to us through our relationships; a proprietary deal flow where there's a high level of trust on both sides, where we feel like there's a match with what that company needs and the experience and relationships that we can bring to the table.
There was a need in the region for someone to be doing what we're doing. To my knowledge, we're the only blind committed capital fund in the lower-middle market in the St. Louis region.
We have a very diversified pipeline of businesses that we're looking at. There's no shortage of opportunities in terms of good companies and excellent people to invest in. I think we'll invest this fund much more quickly than anticipated because of the strength of the opportunities. If (they) continue to build as they have in this first year, we will raise a second fund.
Is commercial real estate getting back to where it was before the recession?
It depends on what segment. I think on the industrial side, the market has really finally bottomed. If you look at vacancies in industrial real estate in the St. Louis region, they're back to a normalized level, particularly if you're looking for a large space. In St. Charles County, for example, there's no bulk warehouse buildings with 100,000 square feet or more space available. Industrial vacancies in St. Louis County are down to a normalized level. Activity is definitely picking up.
One of the challenges St. Louis has is slow growth, and that's where our fund fits in. One of the profound challenges St. Louis has is figuring out how to enhance its growth prospects. Until we do that, I don't think our region will be as successful as it can be.
Why do you attribute that slow growth to?
The fragmentation of the region is one of the most significant reasons, and I support the merger of the city of St. Louis and St. Louis County. I think the size of the St. Louis market and the strength of the St. Louis market is not really captured in statistics because the statistics really just focus on the city versus the region. When you compare the region of St. Louis with other metropolitan regions, we are much better than the statistics indicate. That's an important message to send nationally.
I do think fragmentation is an issue in the region as a whole. The more we can work together as one team, and we're all rowing in the same direction, we'll be more successful.
I also believe there's a gap with assisting companies that have been in existence for a long time. If people like us don't invest in them, the companies won't be successful and they may not continue to exist. These companies employ a lot of people today, and if they're invested in the right way, and they're given the right guidance, they'll expand and really be a key component in providing growth in the region.
How did your grandfather, the late I.E. Millstone, shape your career?
Both my grandparents, I.E. and Goldie Millstone, had a profound influence on me. When I came back to St. Louis to go to college in 1981, I didn't know a lot about my grandparents' history and background at that time. I'd go to a dry cleaners or grocery store and people would ask me if I was related to I. E. Millstone. When I said yes, they'd say, "He's a great man. All you'd need with him was a handshake, you didn't need a contract." I thought, that's the type of person I wanted to be.
My grandparents' influence was soft and indirect. They never told me what to do or how to behave or what career to pursue. But they approached everything with integrity and a concern for other people. Whatever they did, they wanted it to be excellent. Those are attributes I think are important, treating everyone with respect and with a sense of integrity.