ST. LOUIS (May 31, 2017): Lion's Choice, the St. Louis-based quick-service restaurant chain, has named Mike Kupstas the company's new CEO, effective immediately. Kupstas is a 35-year veteran of the restaurant industry and prior to joining Lion's Choice, held senior executive and marketing positions at Panera Bread, Long John Silver's and Red Lobster.
As CEO of Lion's Choice, Kupstas is responsible for the daily management of the company and the future expansion of the 25-unit restaurant chain. He reports to Bob Millstone, chairman of the board of Lion's Choice.
"I've known Mike for over 15 years, and he's the perfect leader to guide us into the future," said Becky Fine, Lion's Choice COO. "He knows how to build a brand with a soul and recognizes the importance our loyal co-workers play while putting the customer first in all that we do."
Kupstas began his restaurant career in 1979 at General Mills Restaurant Group's Red Lobster chain, where he was responsible for menu planning and strategic marketing. He then spent 10 years at Long John Silver's in a variety of marketing roles, ultimately becoming a division vice president of the company.
In 1996, Kupstas joined Panera Bread as vice president of operations and later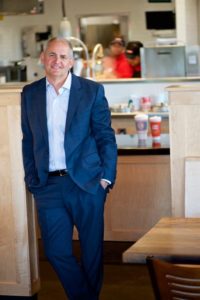 became senior vice president, chief franchise officer. During his time with the company, the brand grew from 52 to 1,600 bakery-cafes across the United States. Under his leadership, Kupstas was responsible for franchise membership, administration and operations as well as a variety of marketing and brand communications.
Kupstas left Panera in 2012 to become the founder of Forks in the Air, an award-winning farm-to-table restaurant in Rangeley, Maine, and a partner with Katie and Ted Collier in Katie's Pizza and Pasta Osteria, an artisan Italian restaurant in Rock Hill, Missouri. Kupstas serves as the chairman of Operation Food Search, a St. Louis-based nonprofit food bank and nutrition education organization.
Kupstas holds a Bachelor of Science in marketing from the Massachusetts College of Liberal Arts and is a graduate of executive education programs at the MIT Sloan School of Management and the Wharton School at the University of Pennsylvania.
Kupstas joins the Lion's Choice leadership team with fellow restaurant-industry veteran Becky Fine, who was named COO of Lion's Choice in September 2016. Combined, the pair has more than 65 years of experience in the quick service restaurant industry.
"As we celebrate our 50th anniversary, we're extremely fortunate to have two local restaurant industry veterans in Mike and Becky to help lead Lion's Choice into the future," said Millstone. "Their track record of success speaks for itself, and they are the ideal candidates to lead the company and to manage our planned growth."