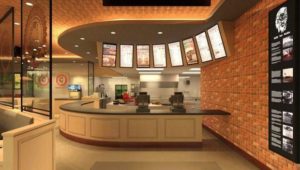 February 01, 2015 12:07 am
 •  By Lisa Brown  •  
lbrown@post-dispatch.com
  •  314-340-8127
After buying the Lion's Choice restaurant chain,
Bob Millstone
kept hearing the same thing from long-standing fans of the homegrown roast beef chain. They didn't want anything to change at the restaurants known for mini cones, horseradish sauce, and cooked-to-order meat.
Millstone, a real estate developer who lives in Clayton, took the messages to heart after the September 2013 acquisition of the nearly half-century-old chain.
"We had a great brand that people love, and we didn't want to change anything," Millstone said. "We want to be a good steward of the brand."
In the 16 months since private equity groups led by Millstone and Mark Disper bought Lion's Choice from its co-founder Marvin Gibbs and other owners, the Town and Country-based chain with 23 restaurants in the St. Louis region added a few menu items but largely spent the time strategizing how best to move forward.
Lion's Choice is just now embarking on a growth plan to add three locations over the next two years locally, and possibly expand in other Midwest markets beginning in 2017.
"We get location suggestions every day, from all over the country," said Disper, Lion's Choice's first franchisee who was named president and CEO following the sale. "But we want to expand methodically."
After taking over, Disper began meeting weekly with the chain's restaurant managers to help craft a design and layout for new locations. The new look of the restaurants will be more upscale, and the layouts will be more efficient for customers and employees, Disper said. Renderings show flat-screen TVs, tin ceilings and a rounded counter where customers place their orders.
"We're striving for a more sophisticated look that's warm and inviting, and less sterile," Disper said, adding the changes will align Lion's Choice with other fast casual restaurants versus quick-service, or fast food restaurants.
The updated design by Chipman Design Architecture's Chicago office will be used in Lion's Choice's first new restaurant in nearly a decade: Construction will start next week on a new Lion's Choice near the intersection of Clarkson and Clayton roads in Ellisville. The restaurant, with seating for 70, will have outside patio tables and a dual drive-through.
If the design is well-received by customers, the chain plans to update the company-owned stores, which now number 15. Franchisees own eight stores.
In addition to the redesign, Lion's Choice also recently hired a director of marketing well-versed in growing brands — Joe Buttice. Buttice's 16-year career at Anheuser-Busch included developing the creative strategy for new products including Bud Light Lime.
With the changes, Lion's Choice is seeking to grow and attract a younger demographic, Buttice said. In the redesigned restaurant, there's more space allotted for a sauce bar that has honey mustard, horseradish, barbecue and other sauces.
"Customization is huge with millennials," Buttice said.
The chain also is looking to extend its reach to the grocery aisle. The company is talking with local supermarkets about selling its popular horseradish sauce.
Lion's Choice's marketing will broaden the company's use of social media to convey the health benefits of its menu items.
"We have a history of word-of-mouth marketing, and we want to build on that," Buttice said. "Social media is being driven by millennials, and we see a lot of growth with millennials."
On its Facebook page, for example, Lion's Choice posted a message saying that if butter is left off the bun, its original beef sandwich has less than 6 grams of fat.
"Nutrition is a big part of today's society, and people are gravitating to healthier products," Disper said.
Health claims that convey wholesome ingredients resonate with consumers, according to a recent report by Technomic, a Chicago-based food service research firm.
"What Americans seem to be looking for are products that are real and are prepared in a way that can't easily be prepared at home," said Darren Tristano, executive vice president at Technomic. Technomic's Healthy Eating Consumer Trend Report found that a majority of consumers want restaurants to be more transparent about ingredients.
Lion's Choice's new strategy comes as a rival renovates its own stores.
Arby's, the country's largest roast beef chain, with about 3,400 restaurants, is in the midst of remodeling its restaurants, which includes adding communal tables, contemporary lighting and wood and tile finishes. Restaurants with the new design that debuted in 2014 saw average sales increases of more than 15 percent, according to Arby's.
Tulsa-based United States Beef Corp., which owns and operates 44 of the 47 Arby's restaurants in the St. Louis area, plans to remodel two of its local Arby's stores this year and open a new location in 2016, said spokesman Fred Fleischner. The two local Arby's stores that will be remodeled this year are at 1800 Troy Road in Edwardsville and at 6666 Chippewa Street in St. Louis.
Aaron Allen, a restaurant consultant based in Orlando, Fla., said many restaurants put off redesigns for far too long.
"It's an intensely competitive industry," Allen said. "We've all come to expect companies like Apple to come up with a new product every year."
BEEF SURGE
Lion's Choice's decision to expand comes as roast beef is increasingly popular with restaurantgoers.
"Roast beef sandwiches in 2014 did as well as burgers and outpaced the industry, which was flat," said Bonnie Riggs, NPD's restaurant industry analyst. There were 580 million roast beef sandwich servings ordered at U.S. fast food restaurants last year, a 3 percent increase from 2013, according to market researcher NPD Group.
One driver in sales was a rise in beef prices. As diners stayed away from pricier beef entrees due to the spike in beef prices, roast beef sandwiches became a more affordable option, Riggs said.
The growth rate for roast beef sandwiches matched that of burgers ordered at restaurants and food service outlets, but didn't come close to matching its volume. There were 9 billion servings of burgers ordered at restaurants and food service outlets domestically in 2014, a 3 percent increase from 2013, according to the NPD Group.
Riggs said Arby's and other chains are investing in updating their stores to attract millennials — those born in the 1980s and 1990s.
"Millennials are increasingly staying at home, and restaurants are doing all kinds of things trying to entice them," Riggs said. "Roast beef places tend to have an older customer profile, and it's the baby boomers and older that are driving the growth."